ICOS Finland network has in total 13 stations,

of which 4 are Atmosphere stations, 4 Ecosystem stations, and 5 Associated Ecosystem stations

. These stations provide good representatives of boreal and subarctic Eurasian environment in a transition zone from marine to continental climate.
The stations are operated by the University of Helsinki (UH), Finnish Meteorological Institute (FMI) and University of Eastern Finland (UEF).
You can find the detailed locations of the stations at Google maps.
So far 11 stations have received the ICOS label for standardised measurements: Pallas (ATM), Utö (ATM), Hyytiälä SMEAR II (ATM), Puijo SMEAR IV (ATM), Hyytiälä SMEAR II (ECO), Siikaneva (ECO), Värriö (ECO assoc.), Lettosuo (ECO assoc.), Kumpula (ECO assoc.), Kuivajärvi (ECO assoc.) and Kenttärova (ECO assoc.).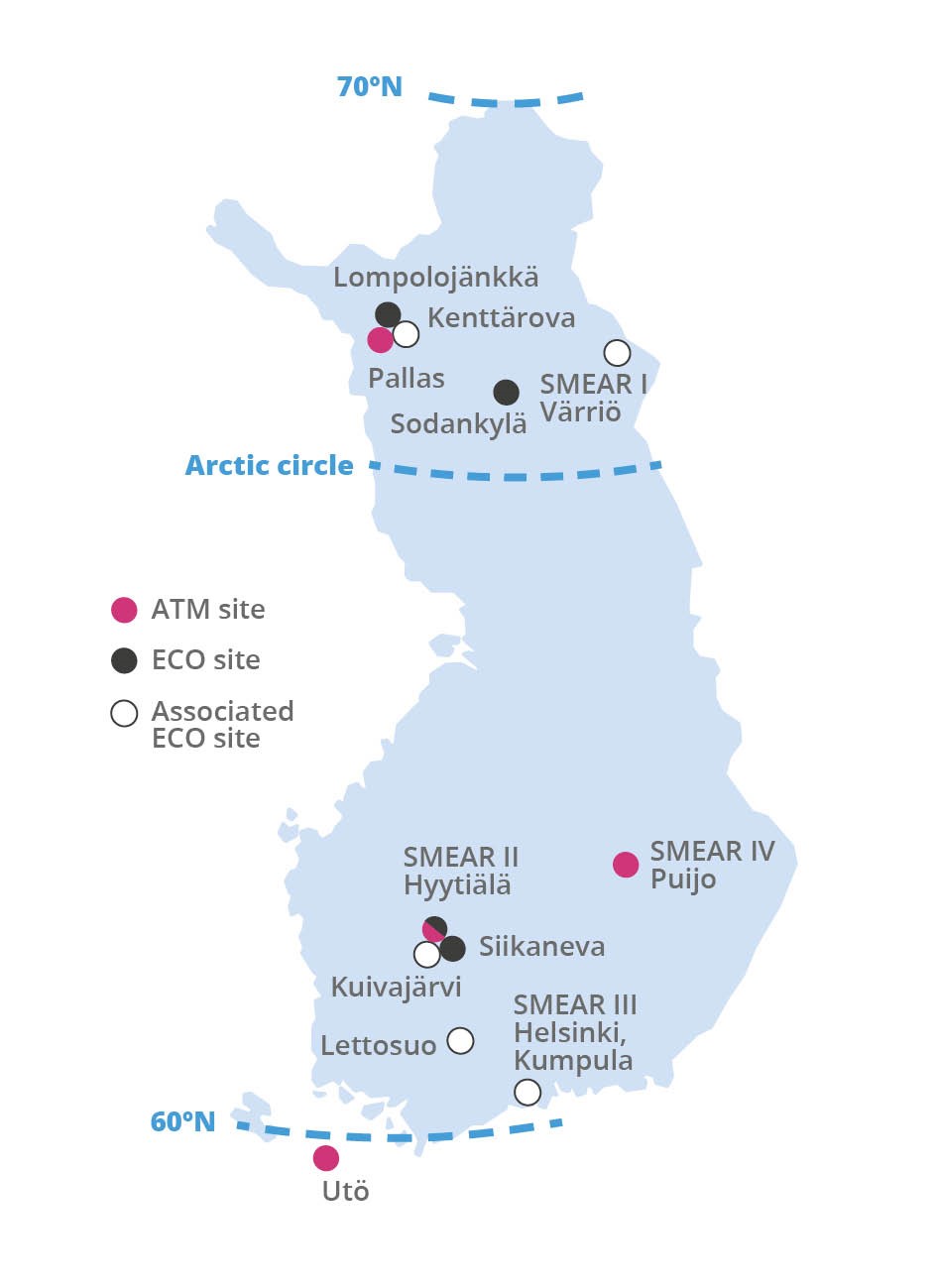 AtmospherE stations, Class 1
Pallas (PAL)

(Pallas-Sodankylä GAW)

Sub-arctic hill

N 67°58.400', E 24°06.939'

Operated by: FMI

PI: Juha Hatakka (firstname.lastname@fmi.fi)

Hyytiälä / SMEAR II (SMR)

Southern boreal pine forest

N 61°50.847', E 24°17.688'

Operated by: UH

PI: Ivan Mammarella (firstname.lastname@helsinki.fi)
AtmospherE stations, Class 2
Puijo / SMEAR IV (PUI)

Urban environment

N 62°54.564', E 27°39.309'

Operated by: FMI and UEF

PI: Ari Leskinen (firstname.lastname@fmi.fi)

Utö - Baltic Sea (UTO)

Non-forested island on the Baltic Sea

N 59° 47.034', E 21° 22.030'

Operated by: FMI

PI: Juha Hatakka (firstname.lastname@fmi.fi)
Ecosystem stations, class 1
Hyytiälä / SMEAR II (FI-Hyy)

Southern boreal pine forest

N 61°50.847', E 24°17.688'

Operated by: UH

PI: Ivan Mammarella (firstname.lastname@helsinki.fi)

Sodankylä (FI-Sod)

(Pallas-Sodankylä GAW)

Northern boreal pine forest

N 67°21.708', E 26°38.29'

Operated by: FMI

PI: Mika Aurela (firstname.lastname@fmi.fi)
ecosystem stations, class 2
Siikaneva / SMEAR II (FI-Sii)

Southern boreal fen

N 61°50.25' , E 24°10.192'

Operated by: UH

PI: Eeva-Stiina Tuittila (firstname.lastname@uef.fi)

Lompolojänkkä (FI-Lom)

Northern boreal fen

N 67°59.835', E 24°12.546'

Operated by: FMI

PI: Annalea Lohila (firstname.lastname@fmi.fi)
associateD ecosystem stations
Kenttärova (FI-Ken)

Northern spruce forest

N 67°59.237', E 24°14.579'

Operated by: FMI

PI: Mika Aurela (firstname.lastname@fmi.fi)

Värriö / SMEAR I (FI-Var)

Subarctic pine forest

N 67°45.205', E 29°36.558'

Operated by: UH

PI: Pasi Kolari (firstname.lastname@helsinki.fi)

Kuivajärvi / SMEAR II (FI-Kvr)

Boreal lake

N 61°50.758', E 24°16.863'

Operated by: UH

PI: Timo Vesala (firstname.lastname@helsinki.fi)

Lettosuo (FI-Let)

Forestry-drained peatland

N 60°38.510', E 23°57.583'

Operated by: FMI

PI: Mika Korkiakoski (firstname.lastname@fmi.fi)

Kumpula / SMEAR III (FI-Kmp)

Urban environment

N 60°12.233, E 24°57.649'

Operated by: UH

PI: Leena Järvi (firstname.lastname@helsinki.fi)